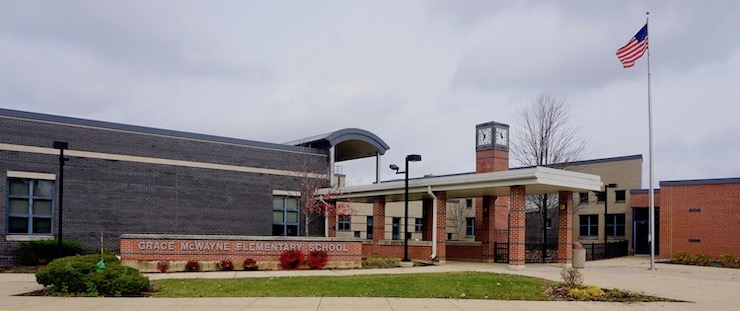 About Us
Grace McWayne Elementary School
3501 Hapner Way
Batavia, IL 60520
Get Directions
View School Facts
Attendance Line:  (630) 937-8103
Main Line: (630) 937-8100
Jeff Modaff
Principal
contact
Jennifer Seaton
Assistant Principal
contact
GMS Mission
Nurturing the whole child to thrive in an ever-changing world.
GMS Vision
Students, parents and teachers are a community of learners who:
respect each others' individuality, perspectives and gifts
know and use their strengths to individually and cooperatively solve problems
participate in the learning process through inquiry, goal setting and collaboration
GMS Values
We Believe …
Each child is a social, emotional and intellectual being with the innate ability to learn.
Children learn best in a positive, safe, respectful environment that encourages appropriate risk-taking.
It is important to know ourselves and others as unique learners with varying strengths.
Authentic and balanced assessments inform our instruction.
A strong community is built through the collaborative efforts of teachers, students and parents sharing responsibility for learning.
Open and honest communication is vital for the success of our community.
History
Grace McWayne taught in Batavia schools for 59 years. She is and probably will always be the educator with the longest tenure of service to the children of Batavia.
Batavia historian John Gustafson wrote, "It is very difficult to measure the influence of a single individual, but Batavians believe she is the first lady of their city. Each year she would meet children of factory workers, children of industrialists, children of the native-born, and children of the foreign-born, perhaps 50 of them at a time. Hers was a production line show whose output could never be evaluated by an inventory, for she shared with her pupils her gentleness, her wit, her human kindliness, her eternal youthfulness, her brilliance."
She began her career in 1868 as an instructor in the primary grade and finally as principal in the building, that in her honor, was changed from Central School to the Grace McWayne School. Ellen McWayne, Grace's sister, also taught in Batavia for 40 years, making their years of service together in Batavia schools a single year short of a century. When the school was razed and the current school built, the new school was again dedicated to the McWayne sisters.
According to Batavian Historian, Marilyn Robinson, "I believe that it is only fitting and proper that the new school on the west side continue to be dedicated and named the McWayne Elementary School."
Indeed, they were dearly loved by their students and colleagues. Upon completing her 50th year in teaching, the whole community held a celebration in Grace McWayne's honor.
A prominent businessman at the time said, "Everyone in town contributed his bit. Some maybe could spare only a nickel; one gave a hundred dollars; it was spontaneous contribution and nobody turned the committee down. There were about 6,000 residents and we garnered $2,000. Even in the poorest section of town where it is almost impossible to make a successful drive of any kind, every last family contributed something to the fund. The name of everyone who gave was signed in a book. One man whose contribution had been most generous remarked, "She has done more than any ten men who ever lived in Batavia."
The $2,000 she received was about double her yearly salary. Miss McWayne graciously accepted the gift but later gave the money to the Board of Education to fund the building of tennis courts because she said, "It would be something for the children to enjoy for many years."